Skithon FGC Turisme
Sponsorisé par FGC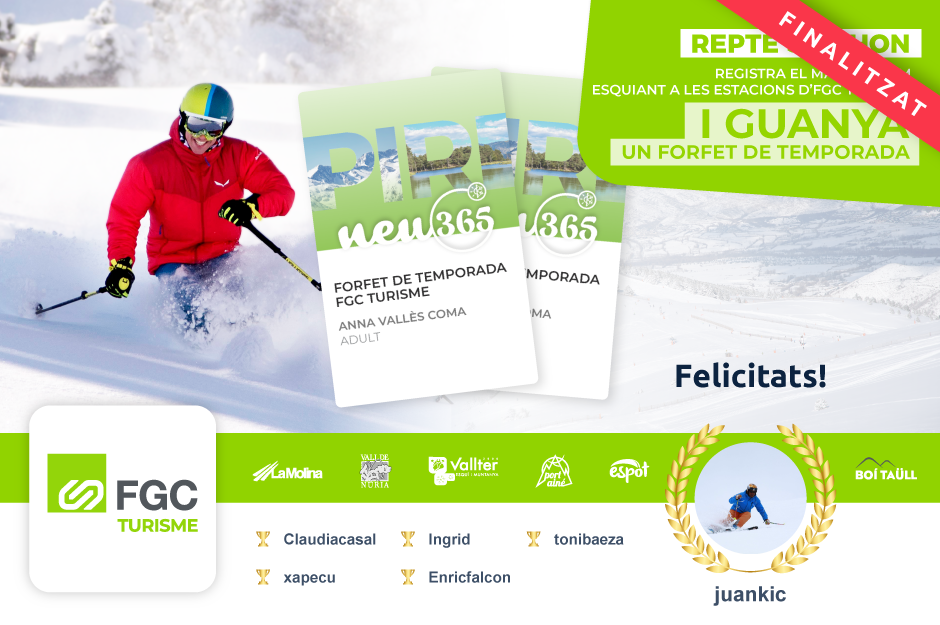 Quand et où
De 21/12/2020 à 05/04/2021
Challenge
Track as much as you can in FGC Resorts
Prix
FGC Ski Passes for 2021/22 Season
Description
Nowadays, marathons are fashionable, but what about the skithones? We purpose a challenge to you. Record the maximum number of kilometers in FGC Resorts during this season and WIN amazing prizes!
The prizes:
1. The skier or snowboarder with more kilometers under his skis or board will be rewarded with a Grup FGC Season Ski Pass valid for the 2021/22 season.
2. In addition, among all the participants who register tracks in the FGC Resorts, we will select 5 winners of Ski Day Passes double for the 2021/22 season.
How does it work? It's pretty simple!
1. Join the challenge.
2. Record all your ski days with the GPS Tracker.
3. The winner will be announced through Skitude's usual channels, email, Facebook and Twitter.
By agreeing to participate in this challenge, you agree to the Terms of Use and the Privacy Policy.
*Requirements: All natural persons over 18 years of age with residence in Spain are eligible to participate in the draw. Employees, contractors, directors, managers, direct relatives of FGC and its associates, subsidiaries, advertising and promotion agencies are not eligible to participate. If any of the excluded persons is a winner, he/she will lose his/her right to the prize.
X
Pour participer
téléchargez l'application Skitude
Télécharger dans App Store
Télécharger dans Google Play
ou l'un de nos applications compatibles