Challenge Les Retrouvailles Bike Park Montclar
Gesponsert von Montclar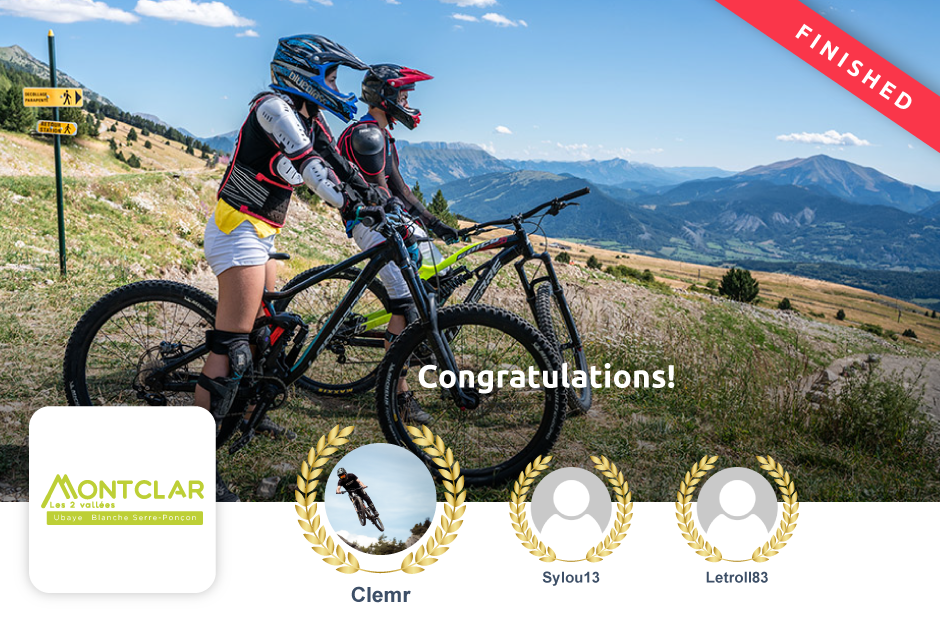 Wann und wo
Von 22/05/2021 bis 24/05/2021
Challenge
Track your activity at Montclar Bike Park.
Preis
Bike Park passes for 2021/2022 season.
Beschreibung
During the opening weekend, record your activity at Montclar Bike Park!! Many prizes to win for the 3 riders who accumulate the most km during those 3 days.
The winner will win : SEASON PASS
2nd place : 2 daily tickets for this season
3rd place : Montclar's goodies
Enjoy thoses Retrouvailles !
Are you ready to enjoy the slopes of the Bike Park?
How does it work? It's pretty simple!
1. Download the application Montclar by Skitude.
2. Join the "Challenge les Retrouvailles Bike Park Montclar".
3. Register and tag as VTT all your tracks in the Bike Park with the GPS Tracker.
4. Follow the results of the Challenge.
5. The winners will be announced through Skitude's email and Bike Park Montclar Facebook and Instagram Montclar's pages.

By agreeing to participate in this challenge, you agree to the Terms of Use and the Privacy Policy, including the Challenge specific Terms of Use.
X
To participate
download the Skitude app
Download on App Store
Download on Google Play
or any of our compatible apps